on Sun May 28, 2017 12:28 pm
This does not have the proper format for an OC Thread, however it's here for documentation purposes so everyone who is not familiar with EON can look at and read the OC descriptions that were originally posted on Fairy Tail Base. Also, new OCs will go here.
on Sun May 28, 2017 12:30 pm
The OC descriptions that I have saved that aren't fully finished, as the finished products were edited on the original FTB thread. So there are extra youtube videos and appearance pictures, as well as some text in parenthesis. I'll edit my post in with the correct versions later.
on Mon May 29, 2017 9:06 pm
Name: Yosenju Rohan
Nickname: None
Age: 18
Theme song:
Another One Bites The Dust- Queen
http://youtu.be/VsnXeQDqOOg
Bohemian Rhapsody- Queen
https://youtu.be/fJ9rUzIMcZQ
Tusk- Fleetwood Mac
https://youtu.be/R7U7XtYeq8c
Appearance:
http://i84.beon.ru/88/1/1930188/17/101086917/0.jpeg
Rohan is a tall, muscular man with red hair and amber eyes. His red hair is kept short, ruffled, and spiked, with two strands of hair near the opposite sides of his head falling over his face, as well as distinct sideburns. He wears a black, leather jacket with a fur collar and a white V-neck underneath. He wears dark blue, denim jeans held up by a simple brown belt, with a silver chain attached from the belt to his back pocket, additionally with black shoes to top off the rest of his outfit.
Personality: Rohan is arrogant, hotheaded, he believes he's better than everyone else, he likes to show off and doesn't really like to talk to people but Rohan might help someone and pretend to be their "friend" but only if he's interested in something such as money and other thing, although he maybe a jerk he really loves his family, he may seem tough from the outside and inside but he also has a soft side but never shows it to other people, when his family is not around he combs his hair back just like his dad and smoke from time to time, he's clever and sees everything as a weapon or finds a way to use it as his advantage.
Seishitsu: Fire Seishitsu and Kiko power
Home: A small island off to the shore of
Kagutsuchi
Quote(s): "The only reason you lost is because... you really piss me off..."
"There's only 2 things that's I like in this world... Money and myself"
"There's nothing more powerful than me! The great Rohan Yosenju! And if I loose by any chance it's because I felt pity for you and let you win!"
" I! The great Rohan Yosenju is even greater than any god so bring it on!"
"You can't beat me!"
"It's laughable that you think you are better than me!"
"Another...One Bites... The Dust..."
"So now you need help from the great, the one and only... I! Rohan Yosenju!... Hmmm... I! Rohan Yosenju refuses!"
Height: 6'1
Relatives: •Yosenju Kama(Father) •Yosenju Cherokee (Mother) •Yosenju Natsumi (Big sister) •Yosenju Sango (Little sister) •Yosenju Tsubaki (Little sister)
Bio: Rohan is the son of Kama And Cherokee, he's the second child out of 4. He inherited the fire Seishitsu from Kama but he didn't get the water seishitsu from his mother, has always loved to fight since his father made him train with his Seishitsu and hand to hand combat at an early age just in "case" anything happened. Rohan always fought with other kids and even adults occasionally, he won some fights, and lost some too but in the end it was always a win for him since he learned from his mistakes. His father was away most of the time because of his job but Rohan always looked up to him, but since his father wasn't around he hanged out on the streets a lot. When he was around the age of 10 he "joined" a gang of fire users of Kagutsuchi because his father was away most of the times because of his work and at home he only had sisters and his mom , they were called the Fire Fist, at first he was kinda like a water boy for them, 3 years later when he was 13 he gained the respect from the gang members since he was good at stealing things, eventually he became a member of the Fire Fist gang this time he beat people up who were late on paying the Fire Fist or people who didn't want to pay in general, he trashed houses, stole from the ones who own something to the Fire Fist, when he was 15 he got into a big fight against another gang but Rohan was alone he took them on it was 1 on 12, he was getting beaten up pretty bad, he didn't stand a chance against all 12 maybe if he fought half of them he could be winning. During the fight he unlocked something without knowing, it was the Kiko power, this gave him the win. He told his Dad about and learned that it was called Kiko, Kama told him that he only had seen it during the battle against Jove. This made Rohan more cocky and made him believe that he can even surpass gods. He sometimes help with some invention Kama made he tried the prototypes and got the final product first he even helped creating the seishitsu engine, sometimes he made secret projects with Kama like the Seishitsu MachineGun, a gun that uses the users seishitsu to fire, the projectiles depend on the users seishitsu but it failed most of the times when he tested them. Rohan had been getting into of trouble recently with other gangs, police and random people, he has been in jail at least 15 times already, but always finds a way to escape
on Fri Jun 16, 2017 8:52 pm
Name: Zachariah Zorian Adelard Chen Caelyus-Fahlih The Second
Nickname: Zee (By his Uncle and Mother), Zach (By pretty much everyone else), Sugar (Solely by Natsumi)
Age: Eighteen
Theme song:
Appearance: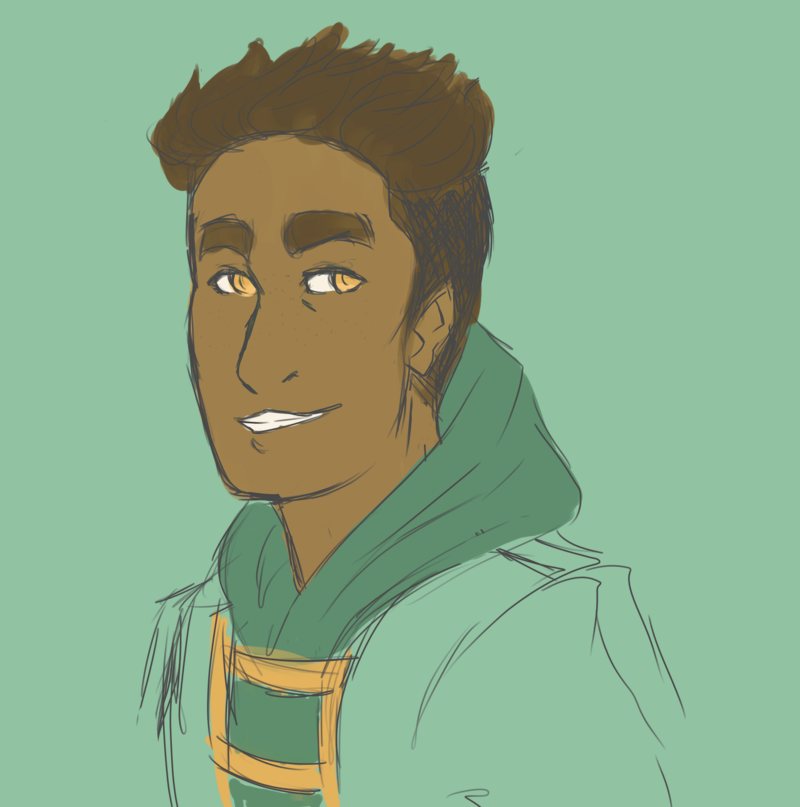 Personality: Zesty and charismatic, Zach's got everything it takes to win the hearts of all the ladies in the land. Or atleast he thinks so. With a compassionate heart that is at constant battle with his intellect he's always trying to do the right thing but not always successful.
Seishitsu: Earth and Light
Home: Nil's capital, Ryujin
Quote(s):
"Well I didn't cry or throw up so I would count that a success."
"sWEET JovE SriRaCHA HaPPY BIRTHday"
"I don't know much about love but I know it starts with really good hair."
Height: 6'3"
Relatives: Zofia Zoria Adelaid Fahlih (Mother), Zachariah Zorian Adelard Fahlih the First (Maternal Uncle), Sehun Cealyus (Father), Solomon Cealyus-Fahlih (Estranged Brother), Kamila Peaks (Maternal Cousin), Kios Siopelos (Paternal Uncle), Danyell Siopelos (Paternal Aunt in Law), Leios Siopelos (Paternal Cousin), Lissandra Siopelos (Paternal Cousin)
Bio: At the time of his birth Zach's uncle, the first Zachariah, was MIA in a military exercise in the Nilisian desert. Zofia, heavily pregnant and unable to search for her twin brother, feared the worst and vowed to name her newborn after him. Zach's birth was without complications, other than his uncle and his stranded platoon arrived in the city just in time to see him get named after him. Tears were shed, Zachariah the First tell that story every year on his birthday. Zofia set herself up for a lifetime of confusion and she'll never forgive herself.
In childhood he was trained by his mother and father alongside his older brother. Mostly his mother, as his father had a nasty habit of disappearing for months on end.
Zach began living with his uncle when he was fifteen, in the Fahlih family estate in the underground city of Ryujin. There he studied under his uncle, honing his mind as well as his earth seishitsu abilities. Until the fateful day his uncle sent him away on hi mothers wish and this whole fiasco started.
Permissions in this forum:
You
cannot
reply to topics in this forum