on Tue Sep 05, 2017 4:24 pm
(I'd like to join!)
Full Name: Loki
Hero Codename: Mischief
Age: 17
Gender: Male
Grade: 11th
SuperPower:  Blood of the Gods (Loki)
Description: Loki is a considered a sorcerer, but his magic comes from his mind. His ability focuses in eldritch energy blasts and illusion casting, but because of his mental break, he gained telepathy and hypnosis for a short time. Loki is immune to some physical injury, to a point, and will sustain injury after a period, and can reattach severed body parts, including his own head. Can only use these powers on a limited basis, and gets extremely tired after extended use.
Theme:
Personality: Loki is a fun loving kid who does everything he can to have a good time, but has a mean streak for his enemies and a mischievous prank side to him. He's generally sweet and lighthearted and as friendly as possible, but can snap pretty easily. Even when angry, he smiles incessantly, showing his inner madness.
Appearance:
Short Bio: He suddenly appeared as a baby on his adopted parents doorstep, in a metal crib with a nameplate, Loki. They took him in and raised him as their own, but they noticed he wasn't exactly the normalest of kids. He would constantly talk to inanimate objects or disappear or long periods of time. Going to normal school, kids bullied him for his long hair and lopsided smile. They harassed him and attacked him, cutting off any chance he would have for human interaction. So he spent significant time alone. After certain things around the house started disappearing or changing into other things, his parents started getting confused, and sat him down for a talk. Loki snapped, and his mental palace flooded with insanity. He transformed into a butterfly, buzzed away, and lived on his own for a few years. His separation from humanity allowed him time to train, hone his abilities, and repair his mind, but also never allowed him the capabilities to fully understand other humans. He was recruited to the Academy just recently, and though he has no schooling and no formal training, his powers are still strong.
on Thu Sep 07, 2017 8:12 pm
Full Name: E-32-5
Hero Codename: Epsilon
Age: Created 7 years ago
Gender: Male
Role: Campus Security
Power: Gravity Manipulation
Description: This ability allows the user to manipulate gravity as they wish. They can increase, decrease and even eliminate gravity altogether. They can manipulate how gravity affects themselves, or others. This allows them to crush objects, make them float, or even give themselves the ability to walk on walls.
Theme:
Personality: Epsilon is calm, collected. Even when situations get intense, he is good at keeping a level head and assessing the situation properly.
Appearance:
Short Bio: E-32-1, codename Epsilon, was created by Durasteele Robotics in an attempt to create an artificial version of the powers that Heroes used. As the first in his line of Models, he was designed to show was Durasteele was capable of, and what robotics and technology in general could do for the military. The goal was to create a new weapon that would allow the military and police to suppress riots and other large groups easily, but to also ensure that there would be no human error in such matters. With their advanced Artificial Intellegence, the Supression Model was designed to give the robot morals to prevent unnecessary killing that human corruption brought.
During development, all of Epsilon's weapons and defence systems were disabled and he was placed in a small, white room with only a desk and a chair. Here, he would spend the next five years of his life, hooked to a machine that would relay commands from his creators. They were mostly involving writing and drawing, to see how advanced his ability to think on his own really was. After that, he began to occasionally receive visits from a female scientists who was supposed to act as a type of councillor, who he could express any feelings of discomfort or pain to. Of course, most of the scientists hardly cared how he felt, as he was only a machine to him. To the councillor, Dr Jess Tyler, he was just a human with an unusual body. Or, so she told him. Of course, she was the only human he had ever talked to, so he had no reason to not trust her.
However, four years later, he finally got his first taste of the real world. While only four a short ten minutes, Epsilon was allowed to leave the building and view what was being the walls he had become so familiar with. After having had this experience, he developed a new feeling. He began to feel a slight resentment for his room, as he now saw it for what it truly was. A prison. This was also when he realized that Dr Tyler was never there to help him, but instead to report any desires he had to escape. So he remain quiet until he felt that the time had come.
45 days before his testing was over, Durasteele finally decided that it was time to begin his combat testing. This was what he had been waiting for. With his weapons and defence fully operational, he would be able to gain his freedom. Because they hadn't done any testing prior, there was no way to tell just how powerful Epsilon was, or what he was capable of. Unfortunately, neither did Epsilon himself. Almost as soon as his power was unlocked, he activated it, forcing everything around him to quickly crumble. The building, even though it was small, was destroyed In mere moments. Everyone inside was either dead, or too injured to stop the machine. He wandered for days, knowing that people from Durasteele would likely follow. However, before they could catch him, he fled the country and found the Academy, where he would act as security from then on.
on Fri Sep 08, 2017 3:37 pm
Full Name: Camilla Vilene
Hero Codename: TBA
Age: 17
Gender: Female
Grade: 3rd year
SuperPower: Force Field Manipulation
Description: Camilla's force field ability grants her protection from physical/energy based attacks. By simply exerting her own energy, she can concentrate on enhancing certain parts of her body to deflect incoming strikes. On top of this, her amplifying ability may also be used for attacking her opponent(s), boosting specific body features to pack as much energy as she possibly can into a move
Theme 1:
Theme 2:
Personality: For the most part, Camilla is very relaxed. She approaches life and the world at large in a calm manner. Additionally, Camilia rarely ever becomes angry or upset, instead, she tries to stick to a positive attitude.
Appearance: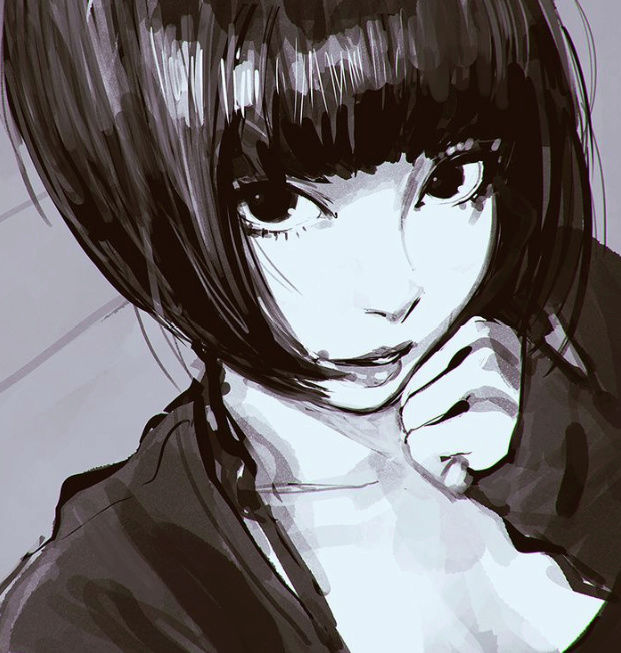 Short Bio:
Camilla grew up on the outskirts of Cavalierion where she was raised in a family who valued peace and tranquility. She spends her time with her older brother (who happens to share the same abilities as her) usually teaching judo classes to children and young teens who are eager to train in martial arts. Other days, the two find that meditating best suits the flow of their energy, thus making their Force Field capabilities stronger by the second. Her parents, on the other hand, own a popular Asian-themed restaurant in the heart of Cavalierion which both Camilla and her brother often help out with whenever it gets too busy. Throughout the years, they have all gained a reputation of being amongst one of the most gracious families in the city, and are hoping that many individuals will follow their example to make Cavalierion truly a spectacular place by being a peaceful citizen. Just recently, Camilla has been invited back for another year at Knight's Academy. She's enthusiastic to learn more about herself and what she is capable of doing for the Academy.
on Sat Sep 09, 2017 3:01 pm
Full Name: Luella Dena
Hero Codename: Claw
Age:  15 (60)
Gender: Female
Grade: Sophomore
SuperPower: Vampirism
Description: The body changes into an older, lean, taller version of the user, making the body naturally more mature than their "age", this includes new features such as greater night vision, fangs, longer nails, paler skin and a predatory nature. Strength, agility, endurance, speed and senses greatly benefit from the transformation along with a superb resistance to damage (In any type of sense). Whilst in their normal form, the user turns into an age equivalent of their actual age, with their vampire state maturing much slower as well as containing the true form of the user, with the human form being more of a shell. While in the vampire state, the user requires blood rather than food, water or oxygen like a human, normally, any blood can do however the bigger the prey, the bigger fulfillment in terms of hunger.

In the vampire form, each time the user transforms, they will have a default set of clothing as well as weapons, they can change out of the outfit however when they re-enter the state, they will appear in their default clothing which is primarily combat focused.

Another thing to note, is that whilst in human years, she technically is 60, her body (Human) has remained at 15 as body and mind growth are slower for those that possess Vampirism. However upon entering the vampire state, she will appear to look slightly older as well as more mature. For vampires, it takes 4 years for them to be actually 1 year old, allowing them to atleast live to be 320.

Outside of the two bodies, another thing they can do, is to transform into an animal, whilst traditionally vampires can transform into bats, with vampirism, they can turn to any animal that they've drunk from.

They can change in and out of the two states at free will, however if a wooden stake has been pierced through the vampire state of the user, the user will have to return to the human state, creating a 'cooldown' on the vampire state which can leave the user vulnerable if they find themselves in a sticky situation.

A cooldown can also be achieved by an overwhelming amount of attacks on the body, with the defence becoming weaker and weaker until the user is forced to retreat from the form.

Another thing to note, is that during their vampire state, predatory senses take over which means that upon being provoked, impulse and aggression will start to take over, making the user become irrational and blood thirst driven.

When drinking blood, the user must have sunk their fangs fully before sucking the blood, this will not turn the victim however they will temporarily be left in a dazed state, sucking enough blood can cause the victim to die though the amount varies on the species
Theme: [Undecided]
Personality: TBC
Appearance: lazy
Short Bio: Later
on Mon Sep 11, 2017 2:08 pm
Full Name: Claros "Clare" Vitreous
Hero Codename: Diadem
Age: 17
Gender: Female
Grade: Sophomore
SuperPower: Noire Sphere
Description: Clare is able to manipulate up ten large spheres of black obsidian, which she controls with her hands. Each finger must be focused on a sphere to make it move and react to her commands, which she is heavily adept at. Using her eyes and her mind, she is able to shape them from things like simple spikes to jewelry and clothing, as fast as she can think they can change. Should the orbs be damage they can simply be reformed rapidly, though if they were destroyed in close proximity it takes longer to reassemble them correctly. The velocity of the spheres allows them to also be used effectively as blunt force objects, hitting with large amounts of force if given space to accelerate. When not in use they float around Clare, sitting up to ten feet away at all times. The obsidian cannot come within half an inch of her skin, simply stopping before her, no matter the force applied.
Theme:
Personality: Clare is usually quite unenthusiastic, floating through life as if it were a chore. She prefers to stay alone and play her instruments, and she has always dreamed of being a one woman orchestra, though she never is quite happy with her results. Drawing and writing are also major passions of hers, though her music takes precedence. She usually goes unnoticed by her classmates, scraping by in class and being just social enough not to become noticeably antisocial. She hates the sun and heat, preferring rainy days on her porch to beach days. She can easily be bribed into things with use of her favourite food though, nearly ripened ambrosia apples, of which she eats almost a pound and a half a day, usually keeping two on her person between outings from the top bunk of her bunkbed. Being disturbed when she's eating or playing music causes great anger from her. When annoyed or angry she goes about the most efficient ways of dealing with the problems, at least in her mind.
Appearance:
Short Bio: From a young age, Clare had control of her abilities, though they were more frantic and uncontrolled then. She grew up in a family of twelve, her siblings coming from two different mothers and three fathers, all who had become experienced and excellent members of society. Clare, on the other hand, spent all her time drawing, writing, and composing music in the basement, and was shunned by her family. Clare was enrolled into the Knight Acadamy by her father, hoping it'd be the place to make her learn to master her power and also to meet people and become more sociable. Not making much of an impact on the other students or herself, her tenure at the school has been mostly boring for her, her only advancement being in her music and use of her powers. After several failed relationships, she has decided humans serve no purpose to her and has chosen art as her partner.
on Sun Sep 17, 2017 3:52 pm
Full Name: Rel Mydrayall Maki
Hero Codename: Amaya
Age: 15
Gender: Female
Grade: Sophomore
SuperPower: Empathy
Description: Rel can transmit and manipulate feelings and emotions between others through physical contact. If she touches someone one is happy and then someone who is sad, then the sad person becomes happy or vice versa. She can also channel pain and sensations.
Theme:
Personality: Ever optimistic, Rel is bubbly as soap and sweeter than sugar. She is a kind, and caring, young girl who wishes to play her role as support for those around her with pride. She brings whimsy wherever she goes, which may have something to do with the bird on her head, with whom she can often be found having a lively dialogue of a conversation.
Not many people can take her seriously, until they see a grave face on her- for she has many a pensive moments, and can make profound observations despite her light-hearted demeanor. Due to the nature of her powers, she has a deep understanding of emotions and feelings, and is quite sensitive as well.
She doesn't seem to mind her bad eyesight, showing she is at least comfortable with her lot in life.
Appearance:

Short Bio: Rel claims to have no home or parents, having been raised by her adoptive Grandma, much to the compassion of (or dismissal by) strangers. Her hope is to become a hero to support and help other people, not fight in epic life-death battles between good and evil. Her hero name comes from her ancestor, Amaya Maki...who was said to have been the Queen of the Mydrayall Clan long ago in medieval times. This, therefore, makes her royalty. Due to her ancestors powerful eyes...over the generations her relatives losing their emotion manipulating eyes, have caused Rel, and others, to be born with bad eyesight.
on Tue Sep 19, 2017 4:30 pm
Full name: Ilyia Von Eisenberg
Hero Codename: Embress
Age: 16
Gender: Female
Grade: 2nd year transfer student
Super power: Fire Controller
Description: The Pure and unadultarated ability to control fire, the user can create explosions and fire storms around them. They do this by raiseing the core body tempature to it's extreame, to the point of even melting metal to the touch. With higher concintration one can even manipulate how the flames act moving them to a specific will of the user. The Highest form of fire manipulation is the tempeste creating a fire so strong that it has claimed many a hero forced to use the ability.
Theme:
https://m.youtube.com/watch?v=AEk0CJIX7Cs
Personality: Ilyia is cold for the amount of fire she controls. having always fallowed her mother's unloving and harsh commands to the letter she dosent completly understand what kindness is. her ultimate wish is to be her own person not being controlled by anyone or anything. she does what must be done to raise her mother stature in the world and goverment less she be forced down by her again. she respects only those who have final say in there own life and what they choose to do with it.
Appearence:
Spoiler:
Short Bio: Ilyia was born and raised in the great Eisenburg family, where there is little happyness and no love. having never met her father and with no information on him she has no idea where he is or what happened to him. Her mother is a goverment official gaining the job through ruthlessness and resolve. The Eisenburg family dosent much care for the girl believing her to be used only as a tool to gain more power. Ilyia does not refuse what she is asked to do for fear her mother will completely abandon her as she threatened to do before. at the age of 5 Ilyia started to show the familys great ability in fire creating her first explosion infront of her mother. with this she began her harsh training being forced to continuously create fire every day untell she would drop of exhaustion.her mother seeing her not develpping fast enough decided to force traits and pain on the girl. one day when Ilyia was 9 she was braught a pet puppy and told to care for it. after just two short weeks of Ilyia starting to slow in her trainig her mother forced her to burn her pet alive. with this she had hit the final straw and stopped showing emotion pleasing her mother greatly. Finally at the age of 15 Ilyia was told to attend a hero school in the western part of her countrywhere she studdied for a single year before her transfer to a new school Knight Academy.
on Thu Sep 21, 2017 10:05 pm
Full Name: Alistair Roswell
Hero Codename: Aero Knight
Age: 29
Gender: Male
Grade: Graduated Pro Hero
Power: Unrestricted Movement
Description: User can fluidly move around in any environment or conditions, allowing feats such as kicking off any/all surfaces including intangible and ever-changing surfaces. They can move with complete ease on land, air, water or anything else.
The user's movements can not be bound, restricted or sealed by any power or for, allowing them to ignore things like Binding, Acceleration, and even Inertia. However they can be bound by physical tools such as chains or handcuffs. They can treat any substance, terrain or angle as if it was a solid, flat and smooth surface.
Theme:
Personality: Alistair is normally a kind hearted person, but he also believes that work comes before anything else. While he isn't always happy about it, he believes in doing what must be done, even if it has negative consequences.
Appearance:
Bio: As an only child, Alistair lived with his parents in a rather wealthy neighborhood, in a town named Hanson. His mother and father, Mailey and Dallas Roswell, were well-known detectives, and peace officers who had a great deal of authority within the Hanson Police Department. Even those who had unique powers respected them highly, and would often come to them before pursuing any criminals.
When Alistair was born, his mother decided that she would finally retire, and stay home to care for their newly born son. His father, however, kept working and eventually found himself with the position of Department Chief. While both of them respected and admired those who did, neither Mailey or Dallas had ever developed powers of their own. Because of this, it came as a surprise when Alistair began to develop his. Usually, at least one parent must have had a power for the child to have one, but this was not the case with Alistair. At a young age of only 4 years old, Alistair began to develop a rare ability known as Unrestricted Movement. This ability allowed Alistair to walk flawlessly where others failed to walk at all. Be it ice, water, or even air, Alistair was able to walk as easily as a full grown man could on a flat, smooth surface.
With complete mastery over movement, Alistair was sent to the Knights Academy as the age of 16. At the academy, he spent the next four years honing his ability, as well as his swordsmanship. By the time he graduated, at the age of 20, he had mastered both, as well as a combination of the two. Through rigorous training, Alistair eventually even developed the ability to walk in intangible objects, as well as the ability to completely negate any powers that would normally restrict movement. As a graduation gift, Yamahashi, the man who taught Alistair how to wield a sword, forged Alistair a blade that he believed would match his power perfectly.
After graduation, he decided to follow in his parents footsteps, even though they urged him to make the most of his gift. Shortly after graduation day, he joined the Hanson Police Department as the city's first officer with a power. He remained as a peace officer for three years before switching positions to become a police investigator. Of course, through his job, he also gained a positive reputation as a hero, and eventually became known as the Aero Knight.
Permissions in this forum:
You
cannot
reply to topics in this forum